Kitten Play 101: Frequently Asked Questions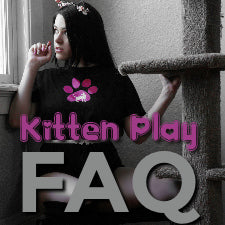 Kitten Play 101: Frequently Asked Questions
For more information, please check out my previous articles What Is Kitten Play and The Art of Bratting.
Where do I get gear? The ears, the tails, the collars, maybe some paws and toys?
I'm going to start by recommending Kittens&Kink. Not because I'm writing this FAQ for their blog, but because I genuinely endorse the quality of their work. You can read my review here. In general, if you're looking for unique and quality items, I recommend checking out Etsy. If you're looking for something on the cheaper end, check out Amazon, Depop, and Halloween/Costume stores (especially during their day-after-Halloween sales!).
Do I have to have gear in order to be a kitten?
No. You're a kitten because you identify as one. Many people find the gear to be aesthetically fun and a helpful tool for getting into their kitten headspace. If that's not for you, or if your budget doesn't allow it, that doesn't make you any less valid as a kitten.
Can I still be a kitten if I'm a boy? Chubby? Trans? Etc?
HECK YES. There is no rulebook, and anyone that says otherwise can heck off. You're a kitten. You don't need no stinkin' rules.
Do I have to be submissive?
No. Most kittens are submissive, but switches and dominant kittens also exist. Just be yourself!
What is the relationship between kitten play and sex?
Kitten play is an aspect of BDSM, but that doesn't mean it is inherently sexual. This is confusing for some people, because fetishes and kinks often go hand in hand with sexual activity. However, BDSM does not require sex to exist. Kitten play is about power exchange. Some kittens will mix their play with sex and some will not. It's a personal choice.
How do I tell my partner I'm into kitten play?
This question can be difficult, because all relationship dynamics are different. Personally, I make sure my kitten status is known before I ever put effort into a new partner. The more open and up front you can be, the better. They're either going to be into it or they're not, and the longer the wait the more potential time you are putting into someone that may not be compatible with you. Rip off that bandaid, kitten! However, if you'd prefer to introduce kitten play into your relationship in a more subtle way, I'd say start with cat ears. See how your partner responds. If the response is positive, then combine the cat ears with some light Dominant/submissive play. If all goes well, then have a candid conversation with your partner about what kitten play means to you and what you'd like to explore with them. You might even pull up videos, pictures, and articles to help explain the dynamic you're looking for. Again, they're either going to be into it or they're not, but under no circumstances should your partner make you feel ashamed about your kinks. That's not healthy, and please do not put up with it.
How do you get comfortable wearing gear in public?
Most people don't care what you wear. In my experience, wearing gear in public has had more positive results than negative. Most people say nothing, but I also get plenty of compliments. A few stupid jokes that get ignored. I've never experienced anyone being mean about my gear. It's just part of my aesthetic. A quirk that belongs to me. However, you know your local environment best. You certainly do not have to wear gear in public if you don't feel comfortable or safe doing so. If you want to practice that confidence or test the waters, then I recommend getting a pair of fashion ears off of Amazon (I also see them sold fairly often in accessory stores in malls).
Do I have to have an Owner/Master/Etc?
Nah. While kitten play will always involve an element of power exchange by definition, not all kittens are looking to be collared or enter into a formal or long term power exchange dynamic. I call these kittens "ferals". It's perfectly valid to experience a more casual expression of kitten play. Power exchange relationships aren't for everyone, but that doesn't mean anyone should feel excluded from enjoying kitten play in whatever way they want.
What does it mean to be collared?
In its most basic sense, being collared means you have entered into a power exchange relationship with someone who is dominant to you. In kitten play, a dominant is often called an Owner, Master/Mistress, or Daddy/Mommy, but the specific term used is entirely up to the couple involved. This may have varying levels of intensity depending on the specific relationship, but it will always involve a level of commitment between the dominant and the submissive and usually involves the submissive wearing a literal collar provided by the dominant. This may be worn 24/7 or only during play or anything in between depending on the specific agreement. Nobody should ever rush into accepting a collar.
What do I do if I don't have an Owner? Can I still be a kitten?
Yes! A kitten without an owner is called a stray. Strays will often find ways to play solo or with friends. Playing solo may include attacking kitten toys, self care in the form of cuddles and naps, and self rewarding with fantastic snacks in addition to dressing up in your favorite kitten aesthetics and gear. Playing with friends may include cuddle parties, mutual grooming, play fighting, and general mischief making. Some strays struggle with feeling satisfied without a power exchange partner, and that's okay. My advice to all of you is to embrace your inner stray, heck the rules, and have some fun!
What about stereotypes? Do I have to be sexy/cute/playful to be a good kitten?
Nope! Kittens come in every flavor and personality under the sun. Don't let anyone try to tell you what a kitten should or shouldn't act like.
What about big cats? Can I be a lion/tiger/etc?
Heck yes! There are many kittens in the community that identify with the larger cats of the world, and that is perfectly valid. These kittens are more likely to be ferals or dominants, but there is absolutely no rule that says you can't be a submissive and collared lioness. You do you!
I'm a new Owner. What am I supposed to do with my kitten?
I always recommend starting with the basics. Petting, feeding, grooming, and playing. Petting is a wonderful, soothing bonding activity. Most kittens enjoy having their hair played with and their bodies massaged. Touch is a powerful tool in your arsenal! Food can be used as a reward, with treats for trick training. It can also help reinforce a kitten's headspace to eat out of a kitten bowl. Grooming may involve brushing or even bathing your kitten, both of which can be a very intimate experience. Of course, if you have a kitten that hates baths, then you have a fun game for an entirely different reason! Just don't be afraid to get wet. As for play, there are a variety of toys that kittens can enjoy. Some will play fetch, attack wand toys, or chase laser lights. But the best way to decide what to do with your kitten is to ask them. Are there kinks they'd like to include in your dynamic? What are they expecting to get from the dynamic? And how about you? What do you want from your new kitten dynamic? The possibilities are endless! Do they enjoy public play? Impact play? Leashes and caging? Speech restrictions? Are they sexual kittens? Never be afraid to take inspiration from the Internet. Search for pictures, videos, and stories to discover what appeals to you both, and never be afraid to make mistakes! It's okay to try something new and decide afterwards that it's not for you. Happy exploring!
Final Note
The most important thing I want to leave you with is that there is no rulebook. Kitten play is a personal journey and can have personal meaning. Every kitten should feel absolutely empowered to define their own meaning and make their own rules. Variety, after all, is the spice of life! We wouldn't put our actual furry friends in a box (okay we might put them in a literal box, but not a figurative one!), so why would we do that to each other?
About the Author
Ayli Katt is a lifestyle kitten in a 24/7 total power exchange dynamic. She has been part of the kitten play community for over ten years and wants nothing more than for the community to thrive. She is the owner of Kitty's Kuriosities, an adult entertainment site that celebrates the kitten play lifestyle and accepts models of all ethnicities, gender identities, and body types.